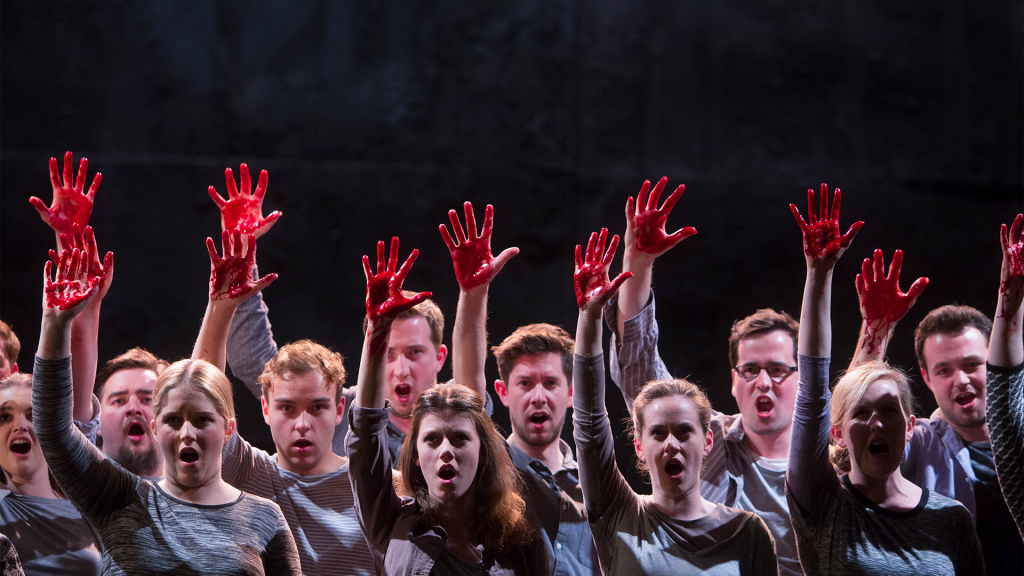 Available 29th May – 5th June.
Exploring the dramatic heart of Messiah, this is a powerful dramatisation of Handel's profound masterpiece.
The death of a messianic leader has left his bereaved community of followers struggling with conflict, doubt and the shaking of faith that this has awoken.
See and hear Messiah as Handel controversially intended – performed for the people in a theatre, rather than in a sacred space.
Opening our inaugural streamed theatre season, this 'astonishingly beautiful' dramatised concert (The Stage), captured and edited by CinemaLive, is directed by Tom Morris (War Horse, Touching the Void) and performed by one of Europe's most celebrated Baroque orchestras, The English Concert, under their Artistic Director Harry Bicket.
Register for the Live Post-Show Q&A: https://bristololdvic.org.uk/whats-on… Pre-show: https://twitter.com/BristolOldVic
To support Bristol Old Vic: https://bristololdvic.org.uk/donate Or text BOV and your donation amount to 70085. (Texts cost your donation amount plus one standard network rate message.)
All the details including credits: https://bristololdvic.org.uk/messiah
MORE INFO
This dramatised production of Messiah is staged by Bristol Old Vic's Tony Award-winning Artistic Director Tom Morris with design by Anna Orton (King Lear). It features internationally-renowned soloists Catherine Wyn Rogers and Julia Doyle, The Erebus Ensemble (Songs of Hope) and Europe's most celebrated Baroque orchestra The English Concert, under the revered baton of Conductor Harry Bicket. Jamie Beddard (actor and Artistic Director of Bristol company Extraordinary Bodies) reprises his role from the 2017 theatre production as he performs the central non-speaking role of The Beloved.
Recorded in April 2017, Messiah returned to Bristol Old Vic following its sell-out debut at Bristol Proms in 2013. Positioned between opera and theatre, this powerfully accessible interpretation of Handel's seminal work explores the drama and struggle of faith, showing a bereaved community whose grief at the loss of their leader is transformed into hope through a narrative of resurrection. Inspired by early performances of the work, which were staged in theatres and concert halls rather than churches, including its first performance at Bristol Old Vic in 1782, it is a rare treat for connoisseurs and enthusiasts alike.
It is streaming for free from 7pm on Fri 29 May and available for a week afterwards, until 6pm Fri 5 Jun.
Running time: 1 hour 58 mins including a short 90 second interval.
Age guidance: 10+
The stream will be captioned.