Watch Online and Raise Money for Acting for Others.
Meet Eugene, Janey and Feris as they reach for the stars and discover the superhero inside themselves. With a hilarious script and dynamite original songs that'll be stuck in your head for weeks, this shot of musical adrenaline is like nothing you've heard before.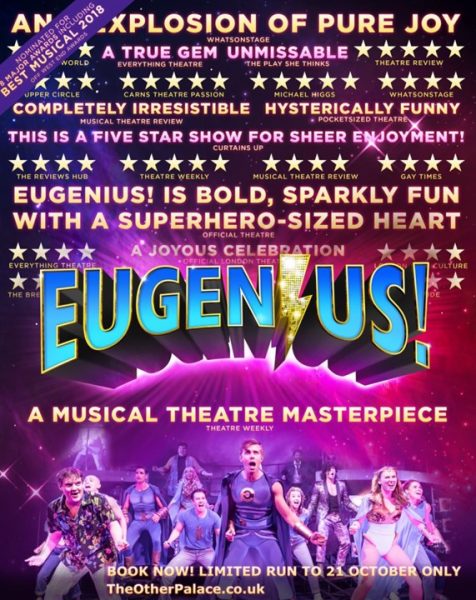 Nominated for 8 major awards including BEST MUSICAL 2018 at the Off West End Awards, Eugenius! is the most exciting new musical in years.
Ben Adams and Chris Wilkins' homage to the great sounds and cinema of the 80s reaches across time and space to enchant you whatever your age. Eugenius! will conquer the Universe!
Ben and Chris, along with the team behind Eugenius! The musical, are delighted to be showing the archive production recording from their The Other Palace production on their Eugenius! Facebook page.
They are proud to be donating to Acting for others as we all look to support those throughout the arts during this difficult time caused by the Covid-19 outbreak.