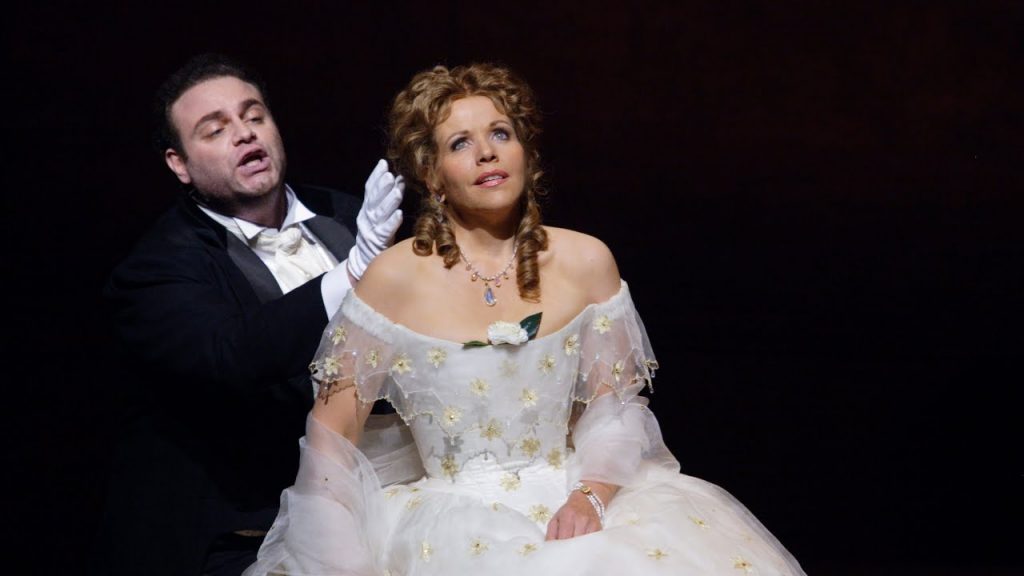 Watch at home classic opera 'La traviata' and ballet 'Anastasia'.
As part of the #OurHouseToYourHouse series, join The Royal Opera for Richard Eyre's classic production of Verdi's La traviata starring Renée Fleming and Joseph Calleja, and The Royal Ballet for Kenneth MacMillan's Anastasia, a piece inspired by the true story of Anna Anderson, a woman who believed herself to be Anastasia, youngest daughter of Tsar Nicholas II and the only survivor from the assassination of the Romanovs in 1918.
La traviata
Alfredo Germont and the courtesan Violetta Valéry fall in love at a party in Violetta's Paris salon. Alfredo is determined to cure Violetta of her tuberculosis, and the couple leave Paris and begin a contented life in the country. But Violetta's happiness is destroyed when Alfredo's father Giorgio Germont pays her a visit. Violetta's scandalous relationship with Alfredo is jeopardizing Giorgio Germont's daughter's engagement, and Germont persuades Violetta to leave his son. Heartbroken, Violetta promises not to tell Alfredo why. Alfredo is stunned when Violetta disappears, and decides she must have left him from self-interest. He confronts her at a Paris party and leaves her. Only when Violetta is dying does he learn the truth.
Verdi based La traviata on Alexandre Dumas fils's novel and play La Dame aux camélias, inspired by the life and death of the real Parisian courtesan Marie Duplessis. Verdi offered a more complex and sympathetic portrayal of his heroine than Dumas, highlighting Violetta's noble nature and her devotion to Alfredo. La traviata had an initially lukewarm reception, but after Verdi revised the work in 1854 it became enormously successful. It is currently the most performed opera in the world, and the role of Violetta a favourite for many star sopranos.
Richard Eyre's stunning naturalistic production contrasts the superficial glamour of 19th-century Parisian high life with intimate scenes for Violetta with Alfredo and Giorgio Germont, culminating in the heart-breaking final act. Verdi's sublime score contains some of his most inspired arias and duets, including Violetta's introspective 'Ah fors'è lui' and hedonistic 'Sempre libera', Violetta and Germont's poignant Act II encounter and Alfredo and Violetta's 'Parigi, o cara', in which they dream of a happy future.
Available until 21st May.
Anastasia
Events overtake the young Grand Duchess Anastasia Romanov and her family: World War I is declared, and then the Russian Revolution brings their privileged lives to an end. A woman who believes herself to be Anastasia, sole survivor from the massacre of the Romanovs, is incarcerated in an asylum. Memory and fantasy intermingle; she recalls her rescue, the death of her husband, the disappearance of her child and her attempted suicide. But, despite her nightmares, her faith in her own identity cannot be shaken.
Kenneth MacMillan created the one-act ballet Anastasia for Deutsche Oper Ballet in 1967. He was inspired by the true story of Anna Anderson, a woman who believed herself to be Anastasia, youngest daughter of Tsar Nicholas II and the only survivor from the assassination of the Romanovs in 1918. Leaving the audience to decide the legitimacy of Anna's claims, MacMillan created a haunting, expressionist work to Martinů's Sixth Symphony, in which Anna is visited by confused nightmares of her life from the time of the massacre to her discovery in Berlin in 1920. The ballet won widespread acclaim on its premiere, particularly for the central performance of Lynn Seymour in the anguished title role. As MacMillan said in 1971, 'I found in [Anna's] story a theme that has sometimes appeared in my work before: the Outsider figure. Anastasia seems to me to be a supreme example of this'.
Available until 29th May.
Support the ROH
This crisis is impacting theatres and arts venues across the globe. If you are able, please consider making a donation to help sustain our Royal Opera House community: http://www.roh.org.uk/donate-now
In this uncertain time, and as productions and events are postponed at the Royal Opera House and around the world, we're offering a schedule of free broadcasts and live content that audiences can access for free anywhere, anytime across the globe, bringing both ballet and opera to every home and every device.