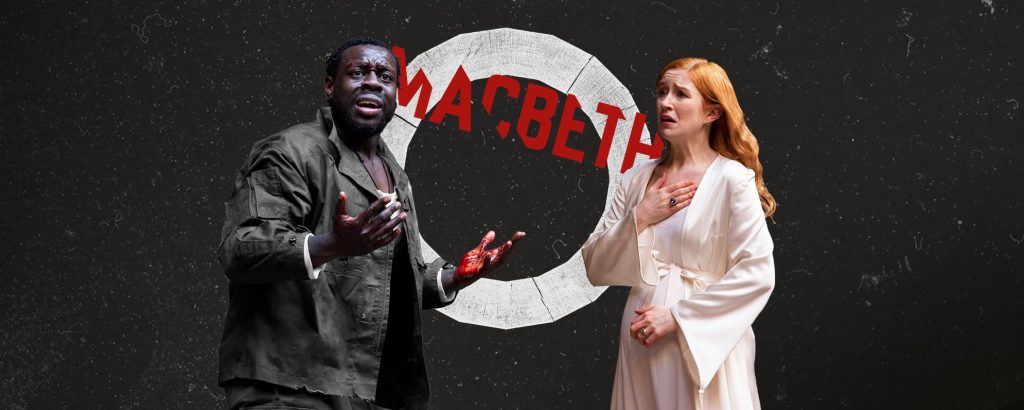 Watch Macbeth for free, our Playing Shakespeare with Deutsche Bank production created especially for young people, filmed from Shakespeare's most famous stage, the Globe Theatre.
In return for these free streams, we appreciate any voluntary donations at this time. Your support is critical for our future. https://www.shakespearesglobe.com/donate
Macbeth: story
When three witches tell Macbeth that he is destined to occupy the throne of Scotland, he and his wife choose to become the instruments of their fate and to kill the first man standing in their path, the virtuous King Duncan. But to maintain his position, Macbeth must keep on killing – first Banquo, his old comrade-in-arms; then, as the atmosphere of guilt and paranoia thickens, anyone who seems to threaten his tyrant's crown.
About the production
A psychological thriller examining the dangers of political ambition, Macbeth is a gripping, full-scale *90 minute performance* in the Globe Theatre, with no interval.
The full company list, behind the scenes photos and interviews can be accessed in the Macbeth programme: https://cdn.shakespearesglobe.com/upl…
Explore this production through blogs and learning resources at the Macbeth website: https://www.shakespearesglobe.com/mac…
Recommended for: Ages 11+
Please be aware that this production is set in a world of civil war and contains scenes of violence, murder, death and blood. The production also contains loud bangs, balloons and confetti.