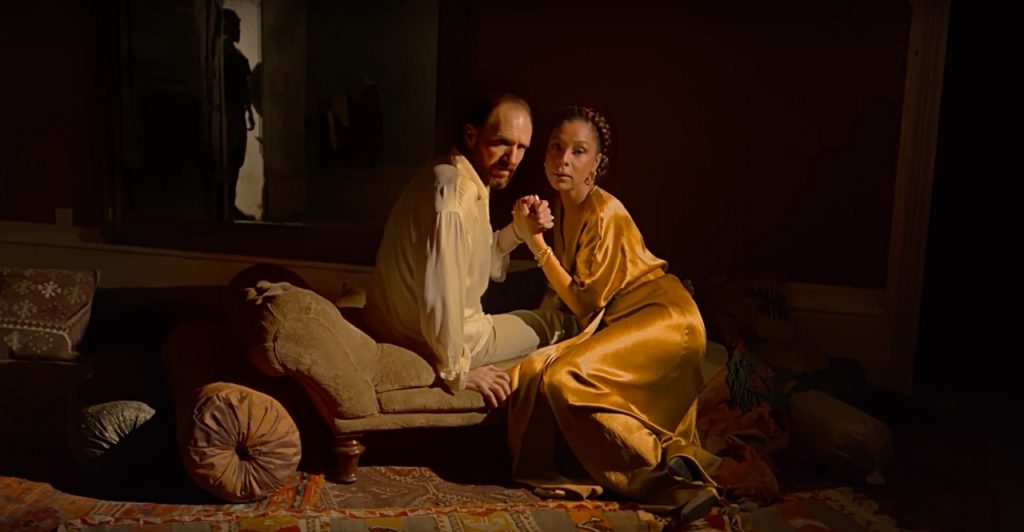 Ralph Fiennes & Sophie Okonedo star as Shakespeare's famous fated couple.
Till Thursday 14th May, Watch Antony & Cleopatra directed by Simon Godwin.
At the fringes of a war-torn empire the Egyptian Queen Cleopatra and Mark Antony have fallen fiercely in love. In a tragic fight between devotion and duty, obsession becomes a catalyst for war.
Ralph Fiennes (The English Patient, James Bond: Spectre) and Sophie Okonedo (Chimerica, Hotel Rwanda) play Shakespeare's famous fated couple in his great tragedy of politics, passion and power.
Antony & Cleopatra is streaming for free until 7pm UK time on Thursday 14 May 2020.
The running time is 3 hours 8mins with a short interval. It is subtitled. This filmed performance was given a BBFC rating of 12A and contains some staged violence and flashing lights.
The full list of cast and creatives is available here: https://www.nationaltheatre.org.uk/si…
If you're studying this play, or sharing it with someone who is, you might like to use our Resource Pack: https://www.nationaltheatre.org.uk/si…#NationalTheatre#NationalTheatreLive#NationalTheatreAtHome#AntonyAndCleopatra
We hope, as you enjoy this content and the weekly recorded performances, you'll consider a donation to the National Theatre, or your local theatre.  
If you'd like to support us, you can donate here: https://www.nationaltheatre.org.uk or text NTATHOME 10 to 70085 to donate £10.   Text is only available on UK networks and will cost your donation amount plus one standard rate message. 
National Theatre at Home gives you access to theatre online, worldwide. There are further titles to be announced.
Find out more about National Theatre at Home: https://www.nationaltheatre.org.uk/at…