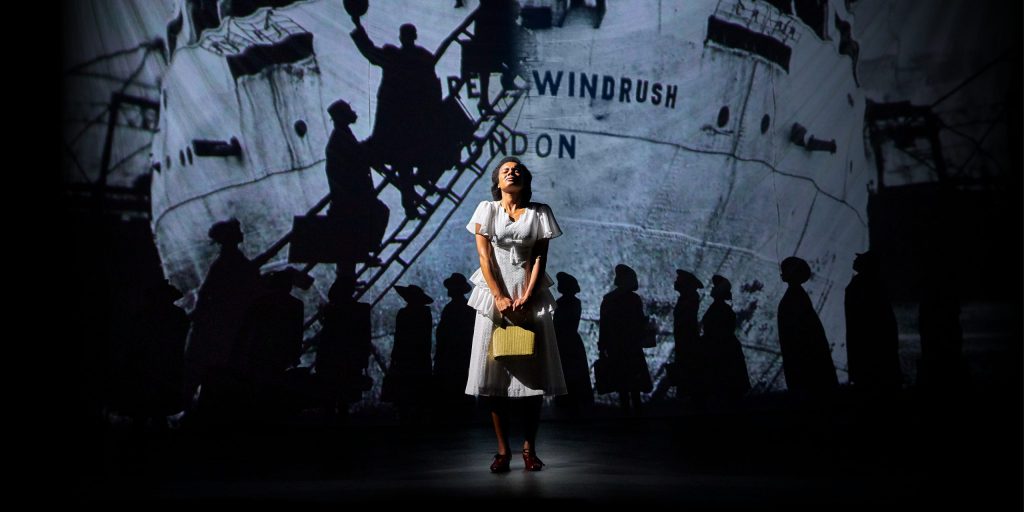 Available 18 -25 June.
Embark on a journey from Jamaica to Britain, from the Second World War to 1948 – the year the HMT Empire Windrush docked at Tilbury, in this moving stage adaptation of Andrea Levy's Orange Prize-winning novel.
Hope and humanity meet stubborn reality as Small Island traces the tangled history between Jamaica and the UK and our characters dream of a better world. Hortense yearns for a new life away from rural Jamaica, Gilbert dreams of becoming a lawyer, and Queenie longs to escape her Lincolnshire roots, in three intricately connected stories.
The 'dazzling' ★★★★★ (Observer) production was filmed live during its sold-out run in 2019 and features a company of 40 actors, including Leah Harvey, Gershwyn Eustache Jr and Aisling Loftus.
Small Island, adapted by Helen Edmundson and directed by Rufus Norris, is streaming for free with National Theatre at Home from 7pm UK time on Thursday 18 June, until 7pm UK time on Thursday 25 June 2020. It is subtitled.
The full list of cast and creatives is available here: https://www.nationaltheatre.org.uk/si…
Whether or not you're formally studying Small Island, this Learning Resource is helpful for contextualising the play, both within its history and the context of Britain today: https://www.nationaltheatre.org.uk/si…
The running time is 2hrs 55mins with a very short interval.
BBFC rating is 15 due to some strong language, discriminatory behaviour, occasional sexual references and mild violence. Please note that, as part of depicting the experience of Jamaican immigrants to Britain after the Second World War, some characters in the play use racially offensive terms.
This production contains strobe-like effects.
#NationalTheatreLive#SmallIsland#NationalTheatre#NationalTheatreAtHome
Support the National Theatre
We hope, as you enjoy this content and the weekly recorded performances, you'll consider a donation to the National Theatre, or your local theatre.
If you'd like to support us, you can donate here: https://www.nationaltheatre.org.uk or text NTATHOME 10 to 70085 to donate £10, or NTATHOME 20 to donate £20.