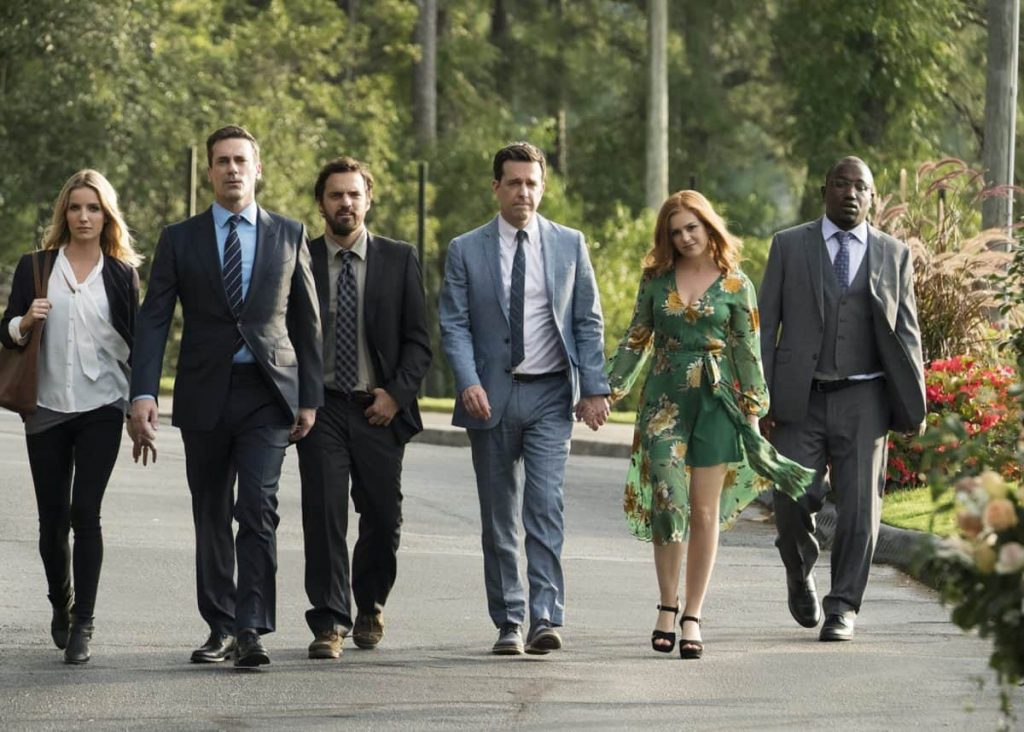 Self-isolation is proving tough for us all and you might feel like you're running out of ideas, but don't worry! We're bringing you the top new streaming picks, and what's on TV, every week for you to enjoy with the family or even for some much needed you-time.
These films may be older but they're still good! We're taking some time to reflect on some of our comedy favourites to keep you laughing, and you might even get some fun ideas on how to pass the time, like starting your own band. Just remember to stay safe!
TAG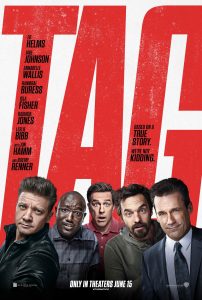 Sky Store, iTunes, Amazon Prime
Starring: Jeremy Renner, Ed Helms, Jake Johnson
Childhood friends Jerry, Callahan, Randy, Sable and Hoagie have been competing in the same game of tag for 30 years. When Jerry gets married, he attempts to retire from the intense annual game without ever being "it," causing the other four to band together and go to extreme lengths to finally tag him.
Minions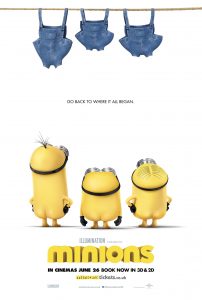 Sky Store, iTunes, Amazon Prime, Netflix
Starring: Sandra Bullock, Jon Hamm, Michael Keaton
Ever since the dawn of time, the Minions have lived to serve the most despicable of masters. From the T-Rex to Napoleon, the easily distracted tribe has helped the biggest and the baddest of villains. Now, join protective leader Kevin, teenage rebel Stuart, and lovable little Bob on a global road trip. They'll earn a shot to work for a new boss, the world's first female supervillain, and try to save all of Minion-kind from annihilation.
Step Brothers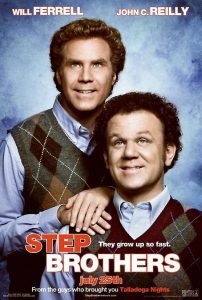 Sky Store, iTunes, Amazon Prime, Netflix
Starring: Will Ferrell, John C. Reilly, Mary Steenburgen
Brennan Huff and Dale Doback are both about 40 when Brennan's mom and Dale's dad marry. The sons still live with the parents so they must now share a room. Initial antipathy threatens the household's peace and the parents' relationship. Dad lays down the law: both slackers have a week to find a job.
Gangsta Granny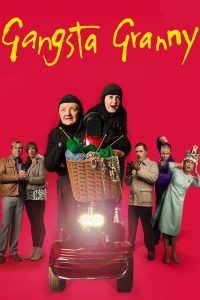 Sky Store, iTunes, Amazon Prime, Netflix
Starring: Julia McKenzie, David Williams, Miranda Hart
Whilst his parents Linda and Mike spend every weekend ballroom dancing 11 year old Ben goes to stay with his granny, whom he initially finds boring. Then one day he finds a huge collection of jewels in a biscuit tin and discovers she was once a notorious burglar, the Black Cat, though she was never caught as she never tried to sell her spoils. Ben decides they should pull off the biggest heist of all, stealing the Crown Jewels from the Tower of London.
Monty Python and The Holy Grail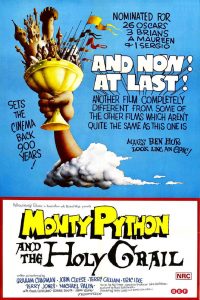 iTunes, Amazon Prime
Starring: Graham Chapman, John Cleese, Eric Idle
History is turned on its comic head when, in tenth century England, King Arthur travels the countryside to find knights who will join him at the Round Table in Camelot. Gathering up the men is a tale in itself but after a bit of a party at Camelot, many decide to leave only to be stopped by God, who sends them on a quest: to find the Holy Grail.
School of Rock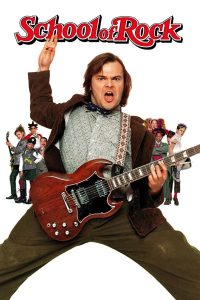 Sky Store, iTunes, Amazon Prime
Sky Store, iTunes, Amazon Prime
After being kicked out of his rock band, guitarist Dewey Finn faces a mountain of debts and depression. He shares an apartment with an old band member, Ned Schneebly, who is now a substitute teacher. Dewey accepts a job as a substitute teacher at a snobbish private elementary school where his attitude and hijinx have a powerful result on his students. He learns they are talented young musicians, and he decides to form a rock band with them to win the $10,000 prize money in a local band contest.
Follow our Facebook page 'ShowFilmFirst' and tell us about your comedy favourites…
ON TV…
The Expendables – Monday 20th, 10pm – Channel 5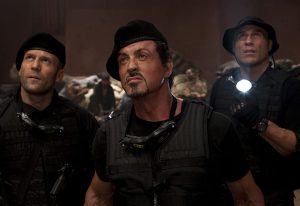 A mercenary leads his elite team on a mission to assassinate a South American dictator, only to find their target is merely a pawn and the real power in the country is a rogue CIA agent. Feeling they have been double-crossed, they abandon the operation – but are compelled to return and save a captured rebel. Action thriller, directed by and starring Sylvester Stallone. With Jason Statham and Jet Li.
Eye in the Sky – Tuesday 21st, 9pm – Film4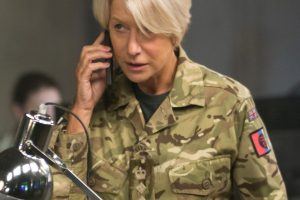 Colonel Katherine Powell's mission to wipe out a terrorist cell in Kenya is complicated when a girl enters the blast radius of the intended drone strike. Powell has to decide between sacrificing the girl's life or letting the terrorists flee to carry out more atrocities. Thriller, starring Helen Mirren, Alan Rickman and Aaron Paul.
Midnight Run – Wednesday 22nd, 9pm – Film4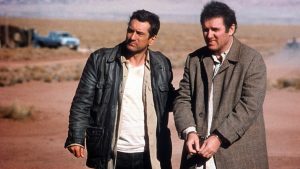 When accountant Jonathan Mardukas skips bail after having been arrested for embezzlement, bounty hunter Jack Walsh is hired to catch the fraudster and return him from New York to Los Angeles. Unfortunately, his task is hindered by the ingenuity of Mardukas and the attentions of pursuing FBI agents and Mafia hitmen. Comedy thriller, starring Robert De Niro, Charles Grodin, Yaphet Kotto, Dennis Farina, John Ashton and Joe Pantoliano.
White Chicks – Thursday 23rd, 8pm – 5Star
Two black male FBI agents pose as white female debutantes in the line of duty, donning full drag and very heavy make-up in an audacious bid to infiltrate a kidnapping ring. Comedy, starring brothers Shawn and Marlon Wayans, with Jaime King and Frankie Faison.
Get Out – Friday 24th, 9pm – Film4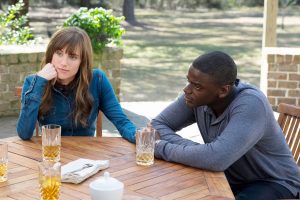 After African American photographer Chris and his white girlfriend Rose visit her wealthy parents, he suspects there's more to the locals than meets the eye. Oscar-winning psychological thriller written and directed by Jordan Peele (Us), starring Daniel Kaluuya, Allison Williams, Bradley Whitford and Caleb Landry Jones.
The Queen – Saturday 25th, 4.55pm – ITV3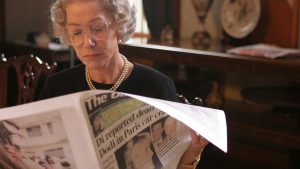 Oscar-winning fact-based drama, examining the events surrounding the death of Princess Diana. The relationship between the monarch and Prime Minister Tony Blair is revealed as they struggle to reach a compromise in dealing with the situation. Starring Helen Mirren in an Oscar-winning role, alongside Michael Sheen, James Cromwell, Helen McCrory and Sylvia Syms.
Tim Burton's Corpse Bride – Saturday 25th, 5.40pm – ITV2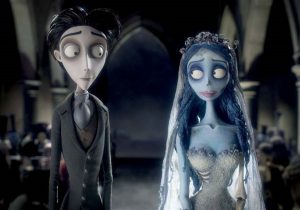 Shy bridegroom Victor unintentionally gets himself hitched to a ghostly bride, who lures him down into the netherworld. But as he strives to find his way back to the land of the living, a treacherous aristocrat is scheming to marry Victor's flesh-and-blood fiancee. Tim Burton's stop-motion animated fantasy, with the voices of Johnny Depp, Helena Bonham Carter, Emily Watson, Christopher Lee and Richard E Grant.
Junior – Sunday 26th, 1.50pm – ITV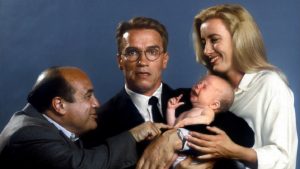 A fertility expert pioneers a treatment enabling men to become pregnant and carry babies to full term. When the authorities cancel funding for the research, he decides to test it on himself, but gives little thought to how difficult it will be to keep it a secret. The situation is further complicated when he starts to fall for the woman whose child he is carrying. Comedy, with Arnold Schwarzenegger, Danny DeVito, Emma Thompson and Frank Langella.
Wonder – Sunday 26th, 4.25pm – Film4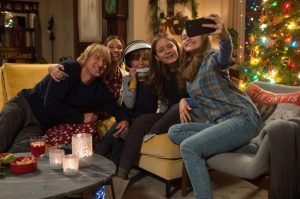 A 10-year-old boy with facial disfigurements that have so far required almost 30 operations takes on a whole new challenge when, after being home educated his entire life, enters mainstream school for the first time. As he struggles to fit in, his fellow pupils and the community are forced to learn the power of compassion and acceptance. Julia Roberts, Owen Wilson and Jacob Tremblay star in Stephen Chbosky's drama, based on the best-selling novel by RJ Palacio.