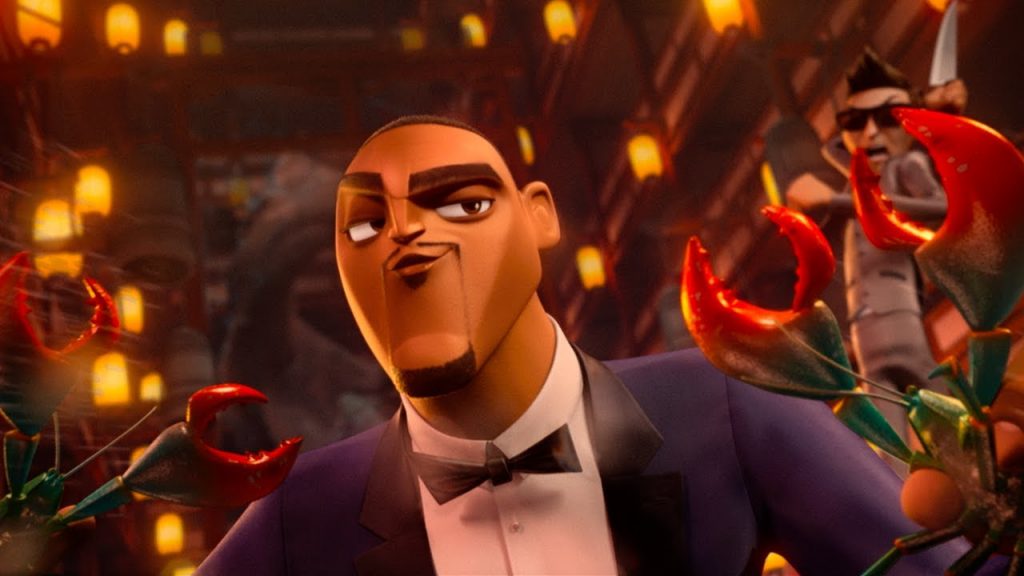 Self-isolation is proving tough for us all and you might feel like you're running out of ideas, but don't worry! We're bringing you the top new streaming picks, and what's on TV, every week for you to enjoy with the family or even for some much needed you-time.
Spies in Disguise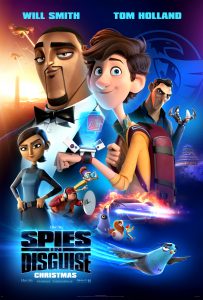 Available Now – Sky Store, iTunes, Amazon Prime
Starring: Tom Holland, Will Smith, Rachel Brosnahan
Super spy Lance Sterling and scientist Walter Beckett are almost exact opposites. Lance is smooth, suave and debonair. Walter is not. But what Walter lacks in social skills he makes up for in smarts and invention, creating the awesome gadgets Lance uses on his epic missions. But when events take an unexpected turn, Walter and Lance suddenly have to rely on each other in a whole new way. And if this odd couple can't learn to work as a team, the whole world is in peril.
The Gentlemen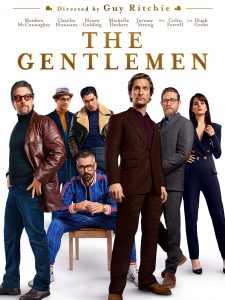 Available Now – Sky Store, iTunes, Amazon Prime or buy now on DVD
Starring: Matthew McConaughey, Charlie Hunnam, Michelle Dockery
A talented graduate of Oxford, using his unique mind and unprecedented audacity, came up with an illegal enrichment scheme using the estate of an impoverished English aristocracy. However, when he decides to sell his business to an influential clan of billionaires from the United States, no less charming but tough gentlemen stand in his way.
Jojo Rabbit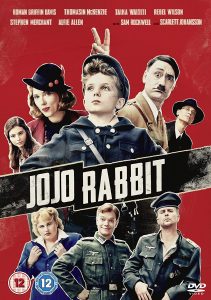 Available Now – Sky Store, iTunes, Amazon Prime
Starring: Roman Griffin Davis, Taika Waititi, Scarlett Johansson
A World War II satire that follows a lonely German boy named Jojo whose world view is turned upside down when he discovers his single mother is hiding a young Jewish girl in their attic. Aided only by his idiotic imaginary friend, Adolf Hitler, Jojo must confront his blind nationalism.
Extraction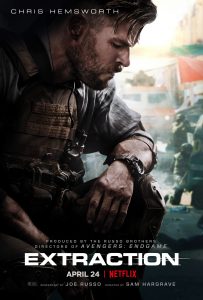 Available Now – Netflix
Starring: Chris Hemsworth, Golshifteh Farahani, Rudhraksh Jaiswal
A black-market mercenary who has nothing to lose is hired to rescue the kidnapped son of an imprisoned international crime lord. But in the murky underworld of weapons dealers and drug traffickers, an already deadly mission approaches the impossible.
ON TV…
Short Circuit – Film4 – Monday, 4:55pm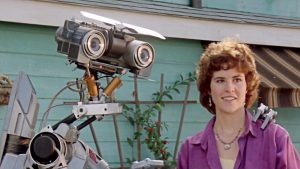 A military robot is struck by lightning and develops a mind of its own. The machine embarks on a series of comic misadventures, but the company that made him wants him back. He realises his only hope is to convince the scientist who invented him that he really is alive. Sci-fi comedy adventure, starring Steve Guttenberg, Ally Sheedy and Fisher Stevens.
The Untouchables – ITV4 – Tuesday, 9pm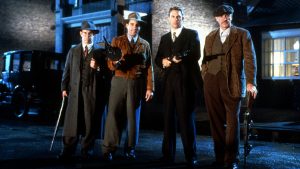 Incorruptible federal agent Eliot Ness is assigned the task of fighting organised crime in Prohibition-era Chicago and bringing the notorious crime boss Al Capone to justice. Aware crooked police are undermining his investigations, he puts together his own elite squad to take on the Mob. Brian De Palma's crime thriller, with Kevin Costner, Robert De Niro, Andy Garcia and Sean Connery, who won an Oscar for his performance.
50 First Dates – 5Star – Wednesday, 7pm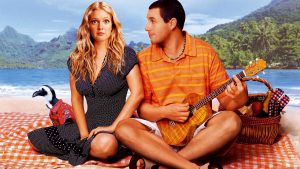 A vet working at a Hawaiian zoo falls madly in love with a beautiful woman and pulls out all the stops to romance her. However, his attempts to woo her are seriously undermined by the fact that she suffers from short-term memory-loss, meaning he has to resume his courtship from scratch every day. Romantic comedy, starring Drew Barrymore, Adam Sandler, Rob Schneider and Dan Aykroyd.
Lincoln – Film4 – Thursday, 9pm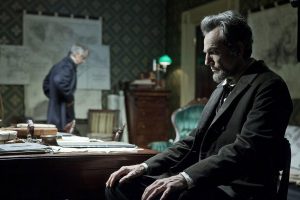 Steven Spielberg's biopic of the 16th president of the United States. In his tumultuous final months in office, Abraham Lincoln faces a struggle to bring the Civil War to an end and unite a divided nation, while also bringing about legislation to abolish slavery. Starring an Oscar-winning Daniel Day-Lewis, with Tommy Lee Jones, Sally Field and Joseph Gordon-Levitt.
Sleeping with the Enemy – Sony Movies Channel – Friday, 9pm
An emotionally abused wife fakes her own death to escape her violent, obsessional husband. She moves to a new town and starts a new life under an assumed identity. However, her brutal spouse realises she is still alive and resolves to hunt her down. Thriller, starring Julia Roberts, Patrick Bergin, Kevin Anderson and Elizabeth Lawrence.
Paul – ITV2 – Friday, 9pm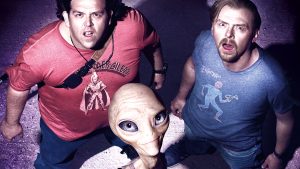 An alien held captive in a top-secret American military base escapes and hides out in the van of two English comic-book geeks on a tour of UFO hotspots. The wisecracking extraterrestrial enlists the duo's help in getting back to his spaceship, but they are soon pursued by government agents and unwittingly become kidnappers. Sci-fi comedy, starring Simon Pegg and Nick Frost, with the voice of Seth Rogen.
Monsters vs Aliens, BBC1 – Saturday, 2:15pm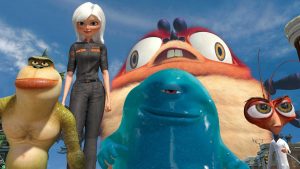 A woman is exposed to radiation from a meteorite that causes her to grow to an enormous size during her wedding. She is captured by the military and held prisoner with an assortment of strange creatures – but when aliens invade, these freaks of nature are the only ones capable of saving the world. Animated sci-fi comedy, with the voices of Reese Witherspoon and Hugh Laurie.
**PREMIERE**
The Guernsey Literary and Potato Peel Pie Society – BBC2 – Saturday, 8:30pm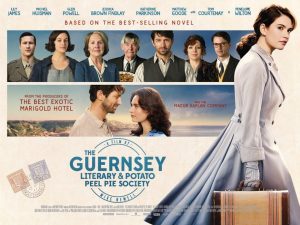 In London, 1946, author Juliet Ashton's career has taken off but she is not enjoying promoting her detective stories to eager audiences on a book tour. When she receives a letter from a Guernsey pig farmer inviting her to attend a meeting of his literary society, she eagerly accepts. What Juliet discovers about her new friends and their secrets leads to her staying on the island much longer than she planned. Drama, starring Lily James, Tom Courtenay and Katherine Parkinson.
The Secret Life of Pets – ITV2 – Sunday, 5:15pm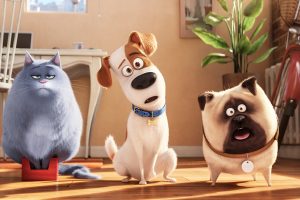 When rivalry leaves them cast adrift on the streets of New York, two bickering hounds must put their differences aside and pull together. Animated adventure from the makers of Despicable Me, featuring the voices of Louis CK, Eric Stonestreet and Kevin Hart.
The King's Speech – BBC1 – Sunday, 10:30pm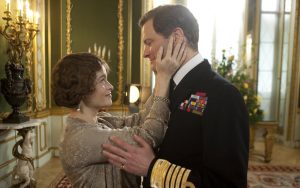 The younger son of George V struggles to cope with an uncontrollable stammer, prompting his wife to enlist the aid of an eccentric Australian speech therapist. The support and friendship of the doctor prove invaluable when a crisis places the repressed prince on the throne, just as the outbreak of the Second World War leaves the country in need of a strong king. Oscar-winning fact-based drama, starring Colin Firth, Geoffrey Rush, Helena Bonham Carter and Guy Pearce.